Hey my fellow tattoos, tutus, and Jesus lovers… (or maybe you're only here for the recommendations haha)!

I wanted to share something with you that might seem REALLY silly/absurd. Ok, here it is. For several years now, I've dreamt of owning a really amazing, bohemian, high quality, unique beach umbrella. I've only told a handful of people including my husband and NO one seems to understand. I just think they are so beautiful. They make an ordinary beach day feel like a tropical vacation. And it's just another way to protect my skin from the sun- at least I'm hoping it will encourage that. They're also expensive. And that's why I haven't bought one.
UNTIL NOW.
Most birthdays I get money from my family- not gifts- which is totally fine with me. Except, I usually go blow it on shoes, clothes and hats. And lets be real, I already have SO much of that stuff. And then I get sad that I didn't spend it on something more unique and valuable/purposeful. This year, I wasn't going to make that mistake. SO, I ordered my dream beach umbrella!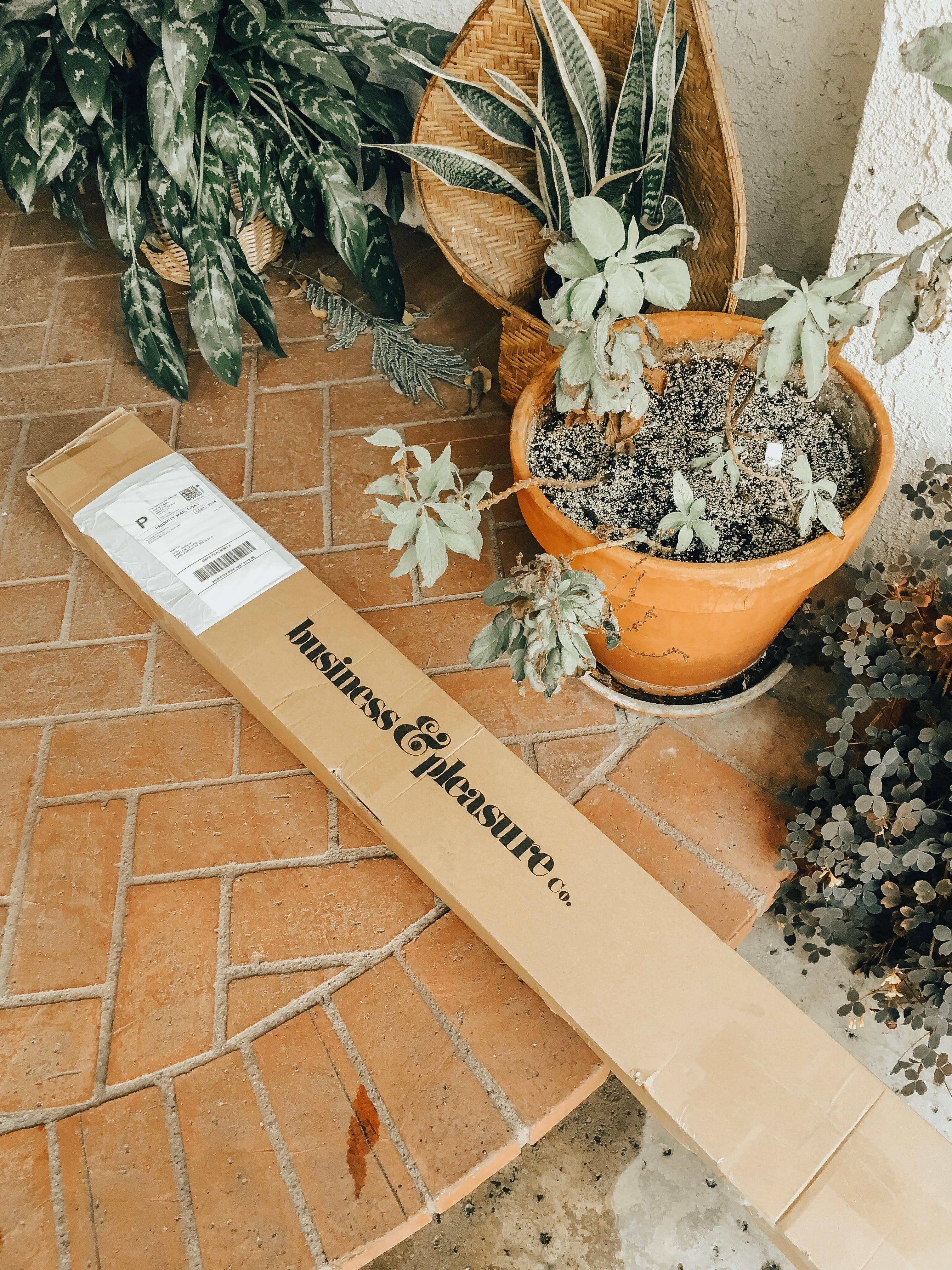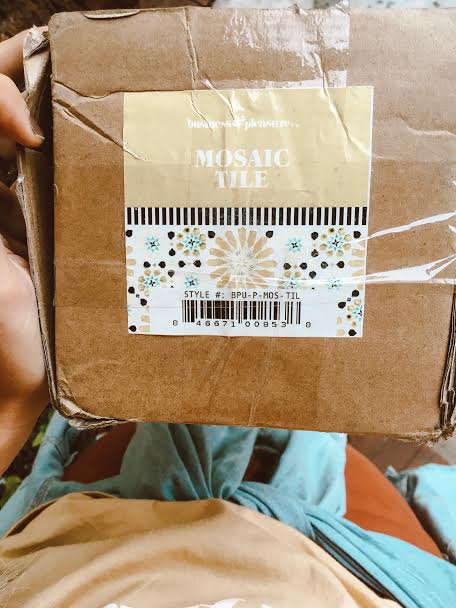 I've been eyeing several brands for high end beach umbrellas including Business & Pleasure, Sunday Supply Co, and Beach Brella. I went with the premium beach umbrella from Business & Pleasure because I liked the wooden post, and that the tassels were cotton. I also saw their brand in person in Malibu and was really impressed by the quality.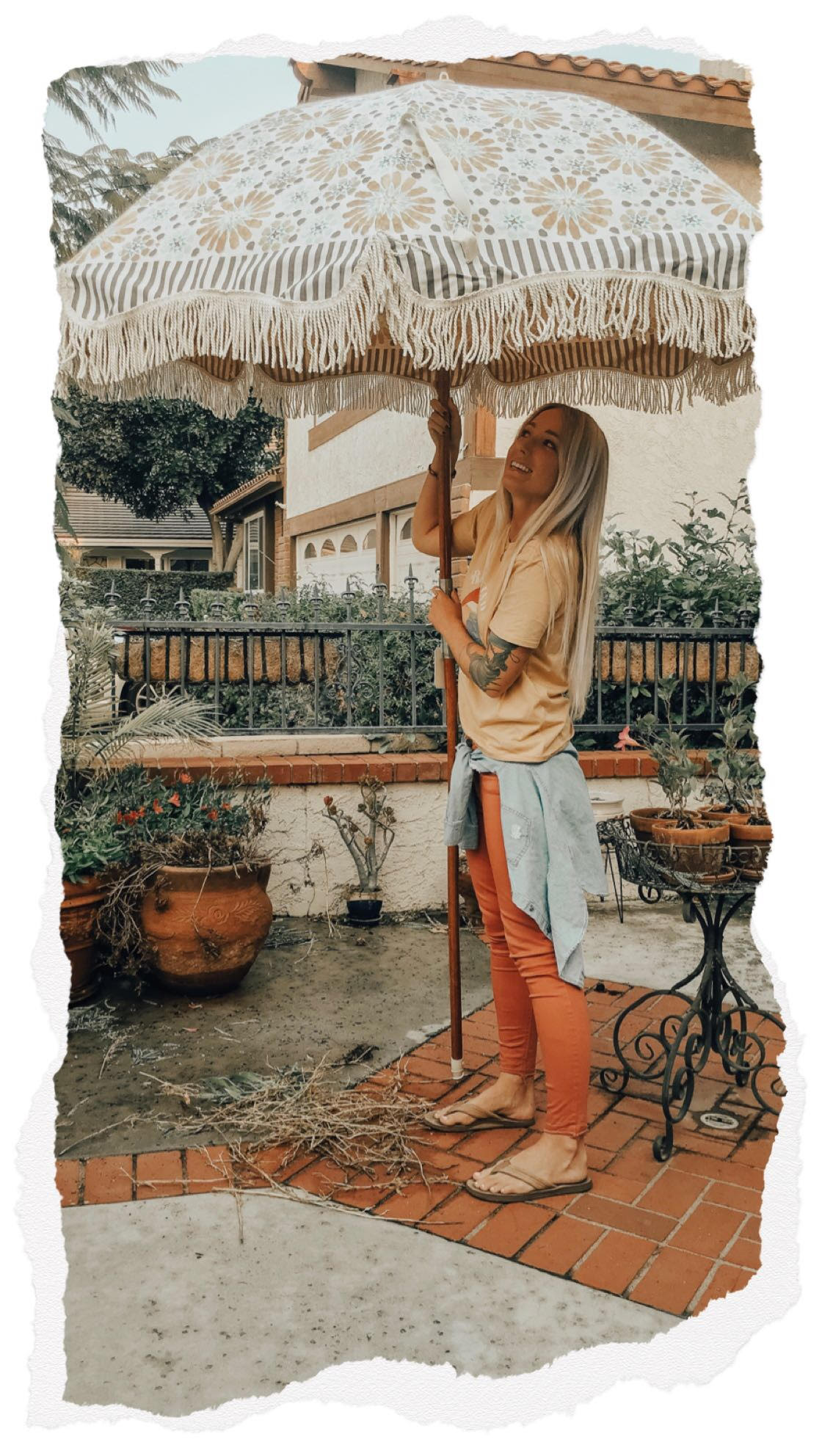 I literally needed to open it RIGHT away because I was so excited.  It was even more beautiful in person than in pictures. And it just looks and feels luxurious/high quality.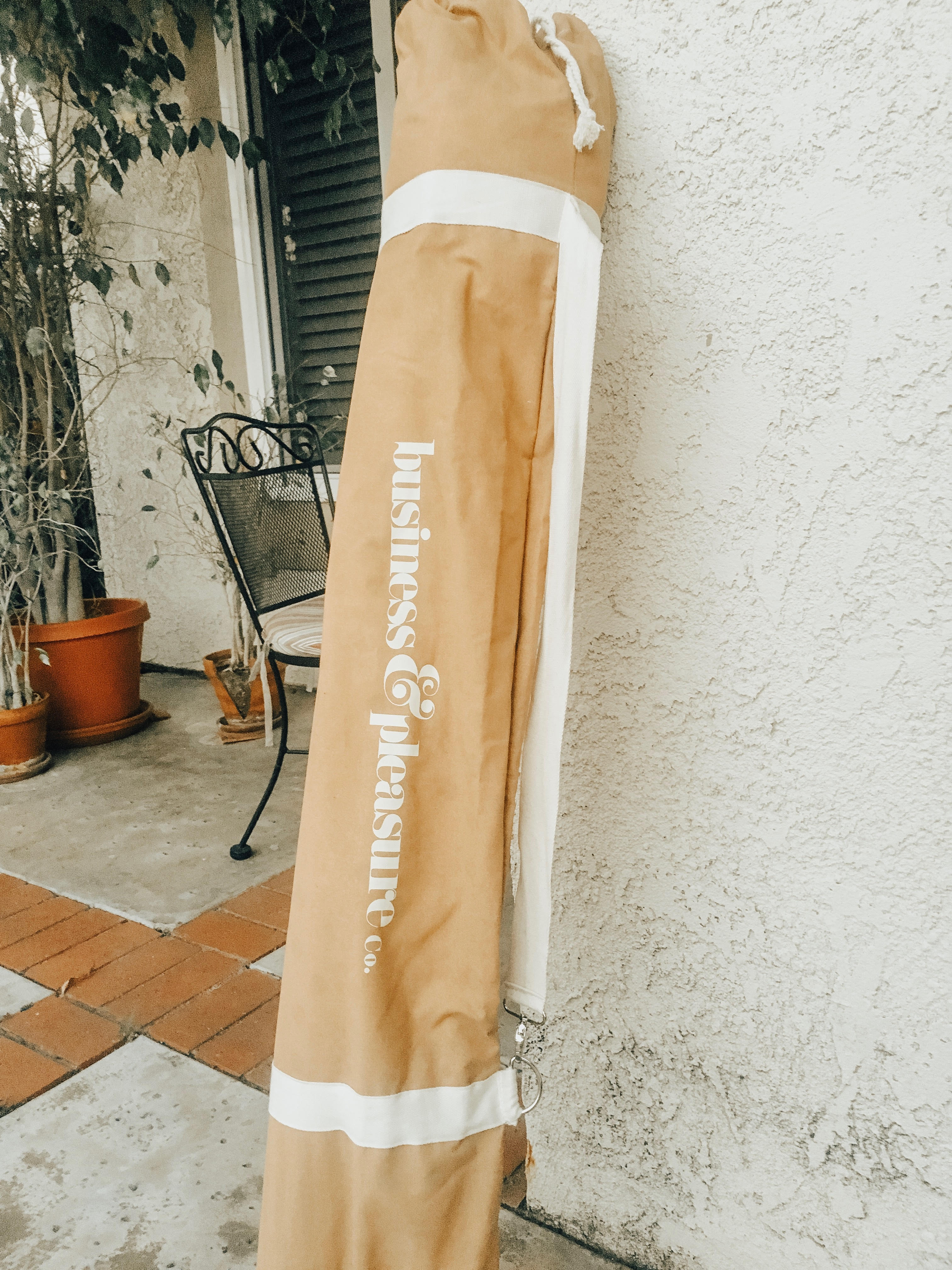 I immediately planned a beach day for a Monday (my only full day off) to test out my new beauty. Another hope that I have had is to have more actual beach days where I surf and stay. Slow down. Instead of surfing and then running off to my next thing. This umbrella is another way for me to encourage that. I just want to lounge under the shade and read a book ya know?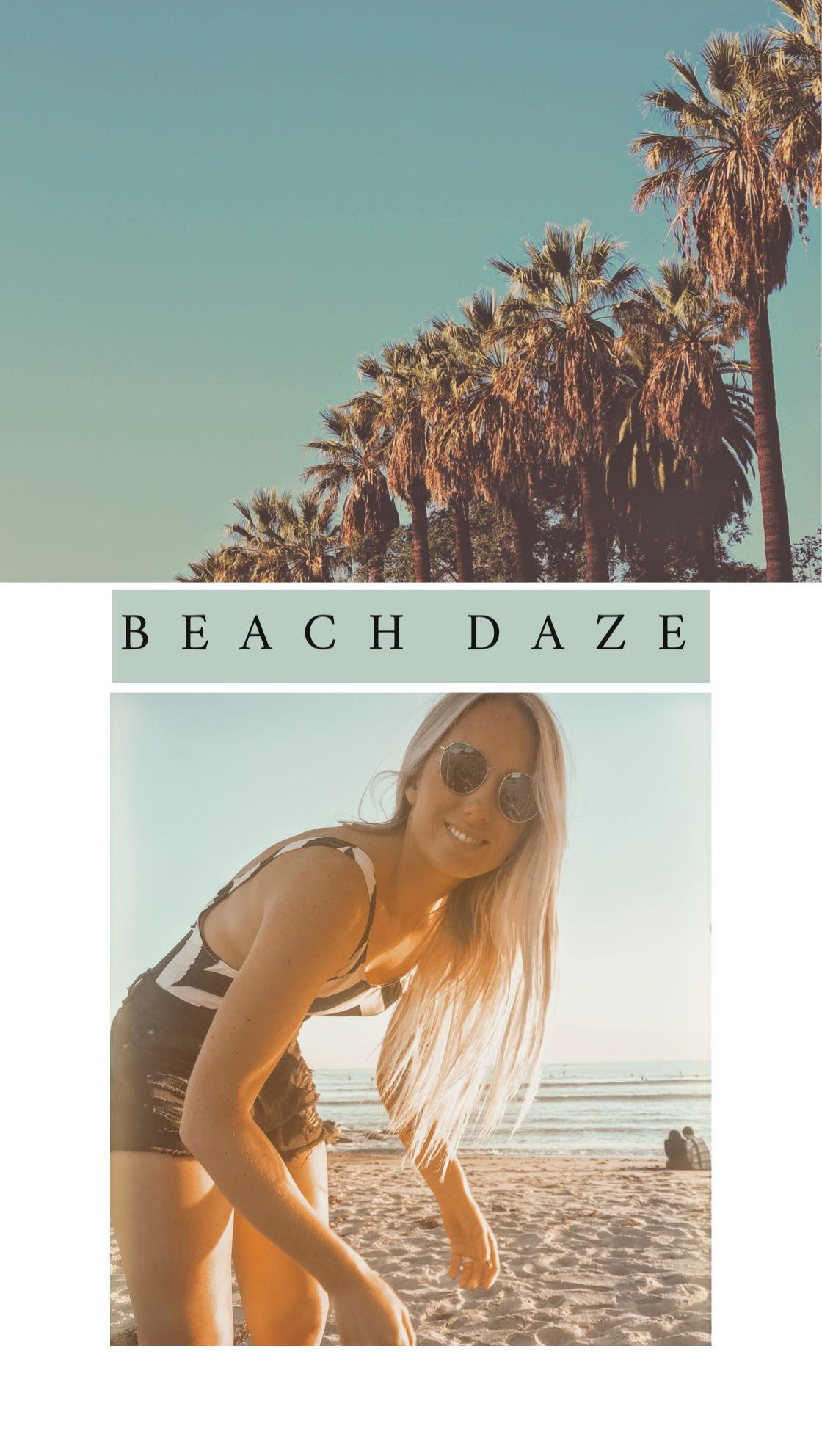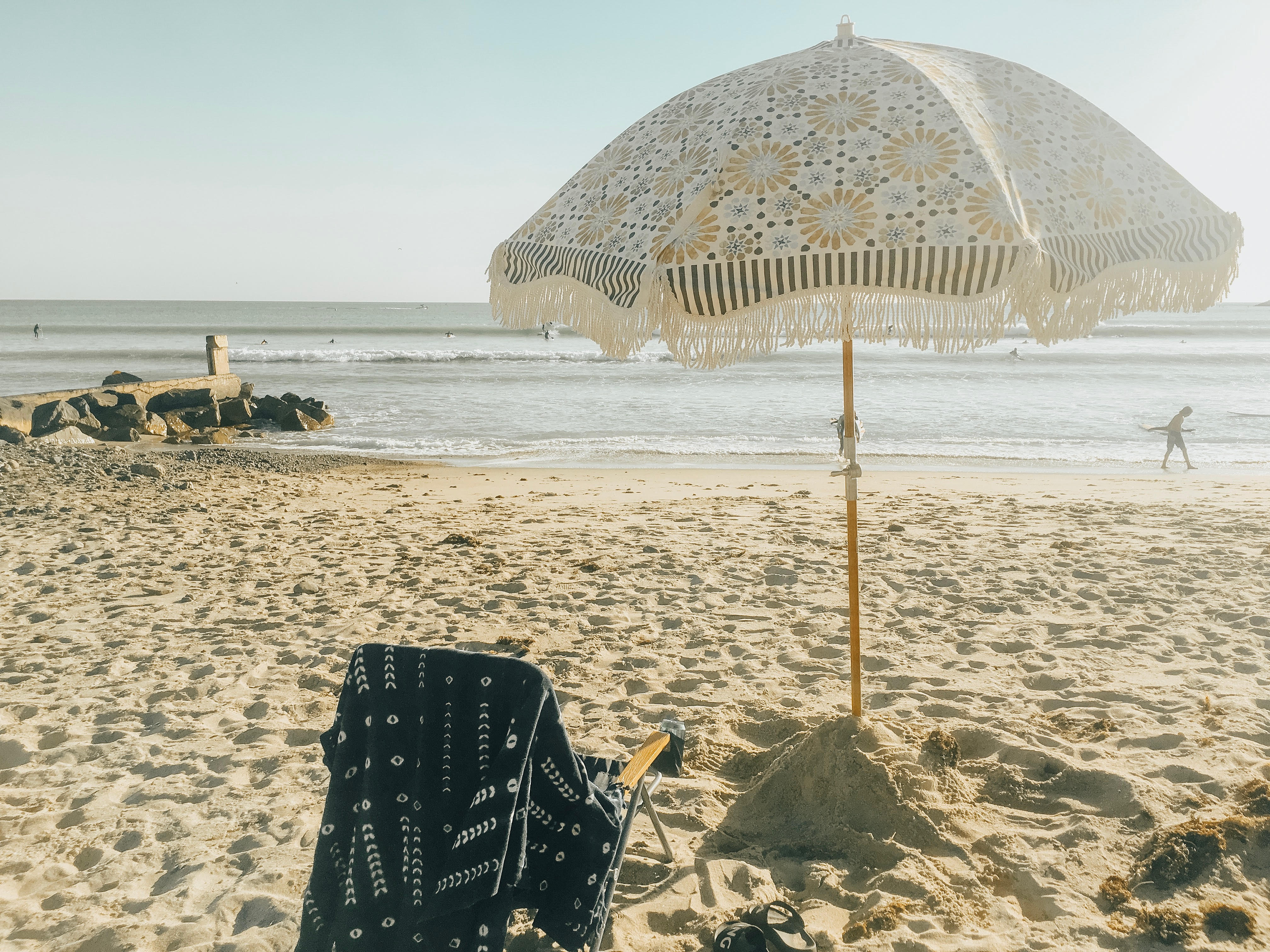 Not going to lie, I was a little nervous to set up this umbrella. I was worried it was going to be too difficult. Even though it's super sturdy, it's still lightweight and easy to carry, which is important to me. It only took me a few short minutes to set up and it was prettttyyy windy out. No problem! The umbrella stayed put the entire time. I was SO impressed. It also allows you to angle the post.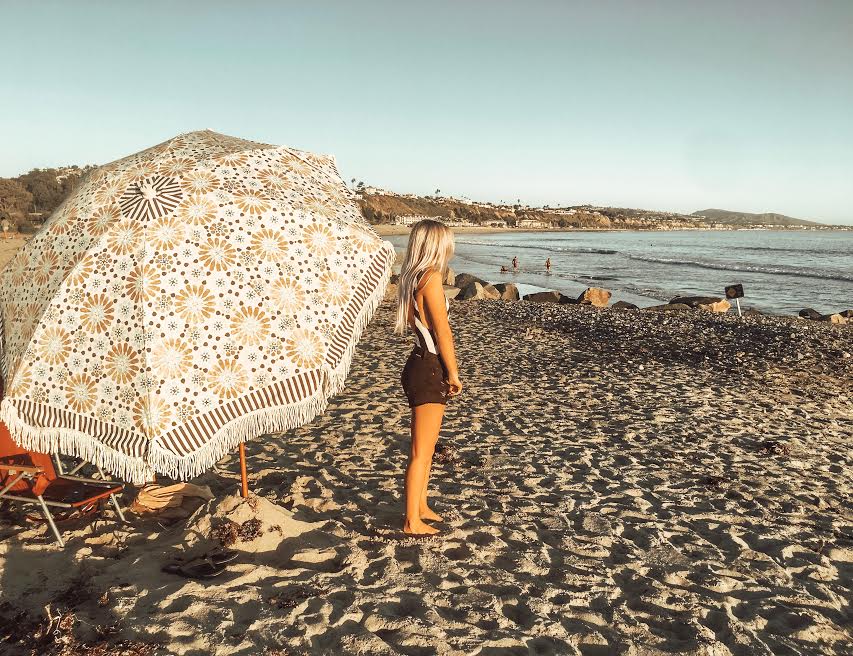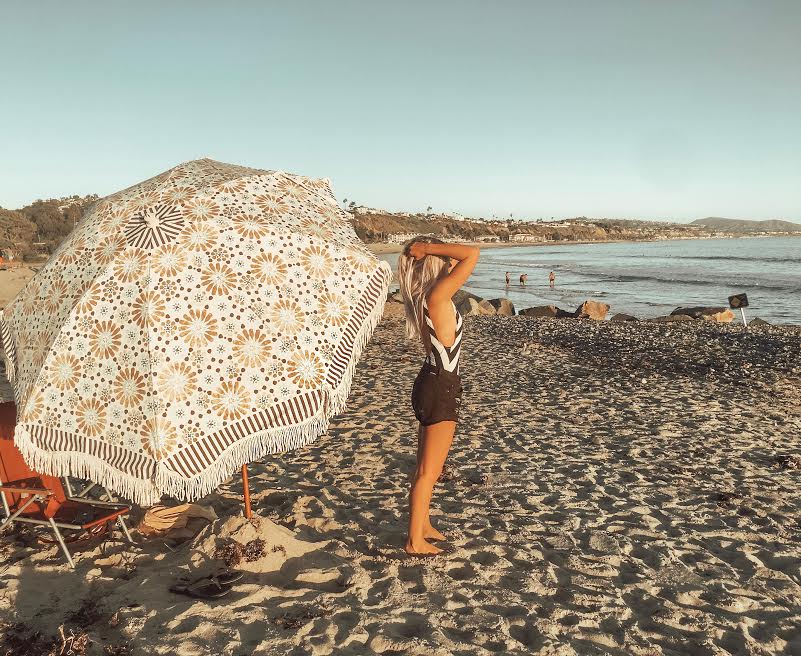 I'm not going to say that you NEED this umbrella. Because that's certainly not true. I don't need it either. What I would encourage is to stop collecting things like clothes, shoes, purses  etc. that are eerily similar to other things you own… and buy something super unique! I have no regrets with this purchase- especially since it was with birthday money 😉 … but also because I know it's an investment that I can use for many years to come.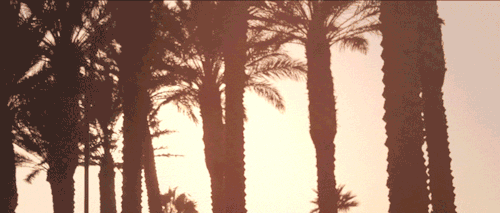 xoxo
Ashley
P.S. Next on my list are their cool beach chairs. Maybe next birthday!